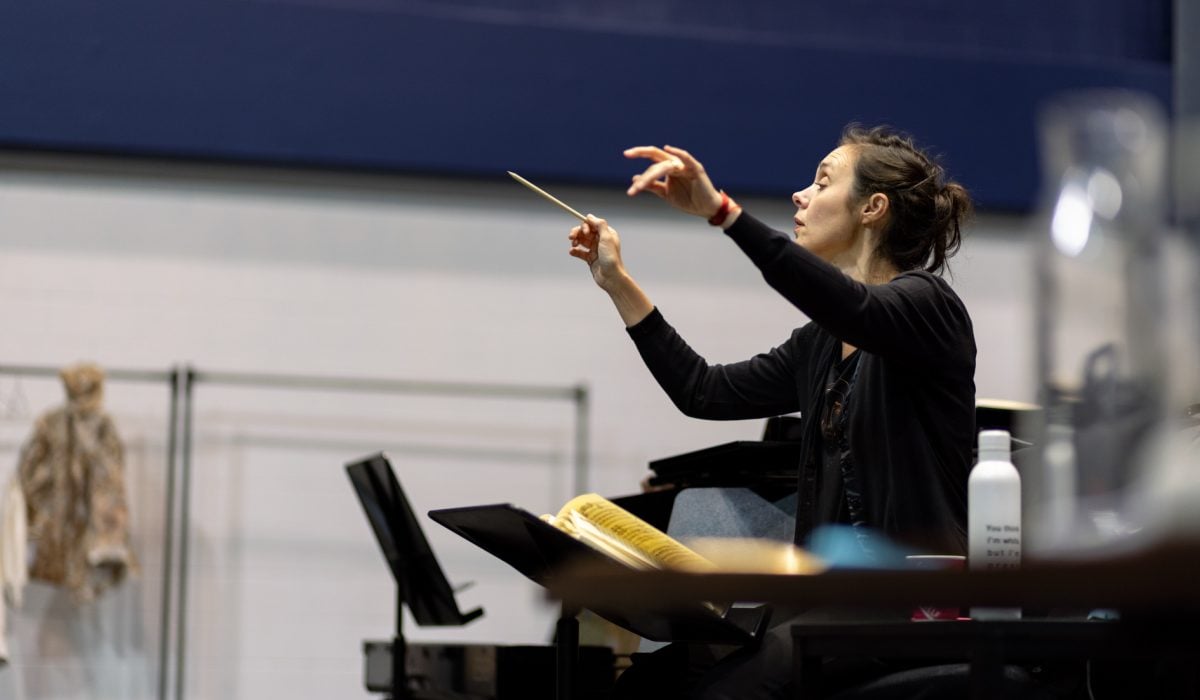 24th July, 2023
10 Questions with Così fan tutte conductor Zoe Zeniodi
How did your passion for music develop?

My parents had a VCR tape of La Traviata left out and forgotten about and it was my only resource to watching video at age 5. They had no idea I was watching it daily for years and I had no idea what that was! This became the fuel that ignited my passion for music.
You originally began as a pianist, how did you make the transition to conducting?
A very strange turn into my life's events brought me to Miami. Thomas Sleeper, my then PhD supervisor, strongly encouraged this career turn. Despite my initial hesitance due to my own gender self-stigma, I soon became obsessed with score study and the magical world of conducting.
What was the first opera you had the opportunity to conduct in your career?
It was Leoncavallo's Pagliacci at Opera Southwest in New Mexico. I was the first woman to ever conduct there. It was a beautiful experience especially as it was the first work trip together with my baby twins.
As you return to Queensland, after conducting Opera Queensland's The Human Voice last year, is there anything that you're eager to do this time around?
One of my main goals and primary reasons for making music is to create deep connections with the score and my collaborators. My first time at OQ was a wonderful experience and I am hoping to deepen my connection to OQ and Brisbane further. I love being and creating here.
How do you approach collaboration with different opera companies and orchestras?
I stick to my values. Being honest, sharing fully all my knowledge, talent and hard work. I hold nothing back and I give my full self to the endeavor.
What distinguishes the music of Così fan tutte and makes it special within Mozart's repertoire?
It is sublime and divine. In this opera, Mozart starts where he left off with Don Giovanni and Le Nozze di Figaro. The structure, the cognitive, emotional and formal development, the exploration of all elements and all depths are all magnificent. He is really at his best in this work!
As the conductor, what are some of the challenges and highlights you anticipate for this production?
We have an amazing creative team and a wonderful cast of singers. The only challenge for me, always, is being able to lead them and the audience into the beautiful deep layers of this music and make it all a really organic and transcendental experience. This is also the highlight…
What do you hope audiences will take away from this production of Così fan tutte?
The universal essence of life and the thoughts and emotions we all share through time and space. Mozart takes a courageous position on critical emotional and social issues our humanity has been preoccupied with for ages.
What advice would you give to aspiring conductors who are just starting their careers?
To study and work hard and explore the boundaries of music making. However, together with perfecting technique and knowledge, one should always strive on personal growth goals, on work-life balance, on inner peace and harmony; those are critical for perseverance, resilience and longevity.
Finally, could you share any behind-the-scenes anecdotes or memorable moments from the rehearsal process thus far?
Great comedy acting by this amazing cast of singers practically makes us laugh all day long in rehearsals. I love how organically the whole team works together. It is like I never left, OQ is really a home to me.