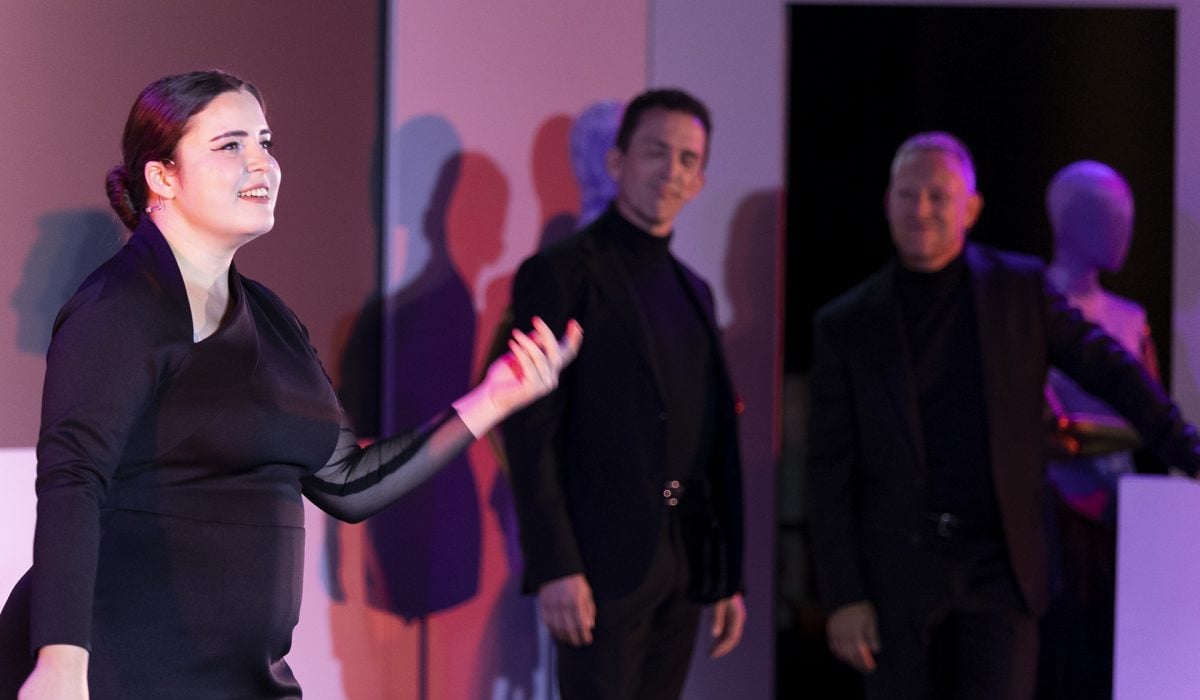 9th May, 2022
The Sopranos tour kicks off across regional Queensland
Musical worlds collide in Opera Queensland's genre– and generation –crossing  production, The Sopranos, which celebrates the bold and rebellious women of music through the ages.
The five-week tour will bring Opera Queensland's The Sopranos to new audiences, showcasing some of Opera's most famous female protagonists alongside contemporary music's greatest storytellers including Sara Bareilles, Helen Reddy and Dolly Parton. 
As part of a five-week tour of regional and remote Queensland, The Sopranos is both playful and powerful, bringing together some of Opera's most famous female protagonists alongside contemporary music's greatest storytellers including Sara Bareilles, Helen Reddy and Dolly Parton.  
Originally conceived as a fully staged theatrical concert for QPAC's Concert Hall, this intimate new production, written and reimagined by Opera Queensland Artistic Associate Laura Hansford and Opera Queensland Artistic Director and CEO Patrick Nolan allows five of Australia's leading opera singers to showcase their incredible talents under the musical direction of Queensland icon Jason Barry-Smith.     
While the original version of the production highlights pivotal moments throughout operatic history, director Laura Hansford has taken the tour as an opportunity to experiment with a more modern musical repertoire. 
"This version has something for everyone, from Mozart's famous Queen of the Night through to Helen Reddy's 1971 anthem, I Am Woman," Laura said.  
"The further we travel throughout Queensland the more varied the musical tastes become and it's so important that we are inclusive of all palates and preferences." 
Laura  said The Sopranos celebrated the virtuosity of female artists while simultaneously challenging the representation of women through history.
"We've taken great delight in reimagining the songs you know and love and presenting them from the perspective of powerful and rebellious women.   
"Take Dolly Parton's 9 to 5 for example, which is, of course, a bop, but if you invite people to stop and really listen, the lyrics are incredibly powerful." 
The annual regional tour is often regarded as a company highlight according to Opera Queensland Director of Learning, Regional and Community Mark Taylor. 
"There's something really special about taking Opera Queensland's homegrown productions and sharing them with all Queenslanders," Mark said.  
"In its simplest format, 'opera' is great stories told through song, and no one loves a yarn more than those in the country.  
"As someone who has lived in regional Queensland, I had the privilege of meeting some of Australia's most resilient and rebellious women and I think this production, in particular, will really resonate with them."
The 11-stop tour will see Opera Queensland travel more than 4,000 kilometres, including performances as part of the annual Festival of Outback Opera.  
"When you take opera out of the majesty and glamour of a traditional concert hall and into the country, the music feels like it touches the horizon," Laura said.  
"Nothing beats the vocal power of these world-class performers against the silence of big-sky country."  
The Sopranos will be performed in some of Queensland's most iconic locations including The Royal Theatre Winton, Charleville Showgrounds and Rockhampton's Pilbeam Theatre.  
For performance times, venue information and to purchase tickets, click on the link below.