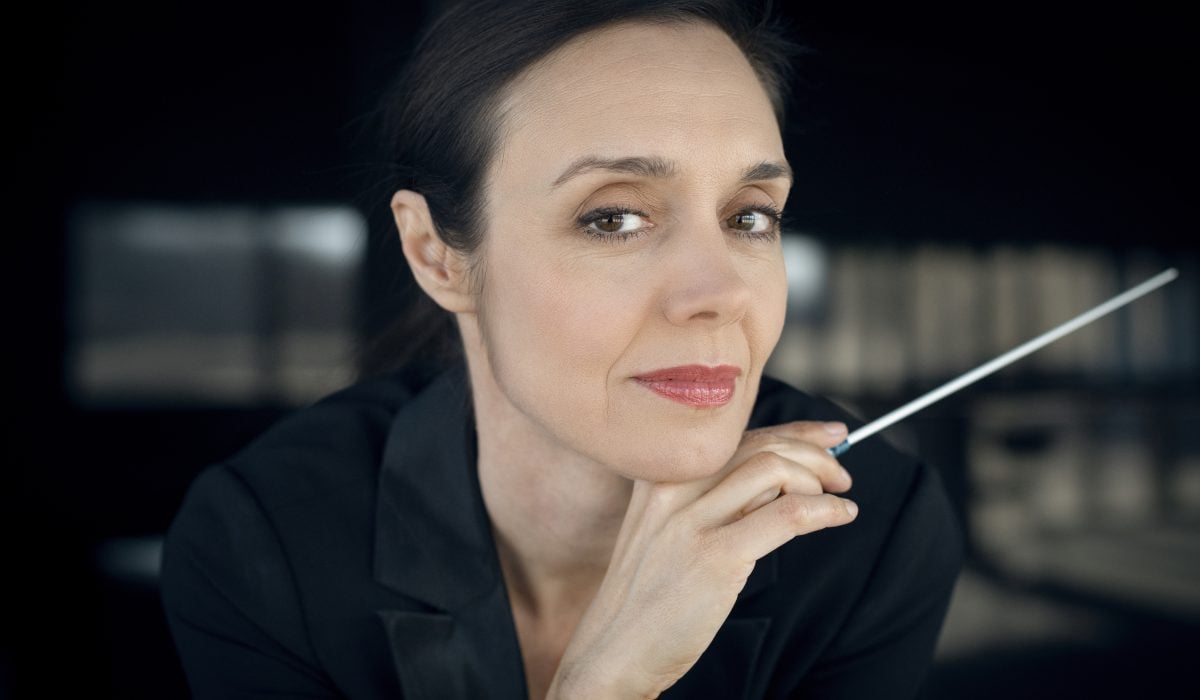 23rd August, 2022
Zoe Zeniodi shares the creative genius of Poulenc's The Human Voice
From its beginning as a play by Jean Cocteau in 1928, to the acclaimed 1950's opera by Francis Poulenc, to more modern film reimagining's staring the likes of Sophia Loren (2014) and Tilda Swinton (2021) The Human Voice is a story that continues to become more relevant over time.
The story of a woman being broken up with by her lover over the phone has been transformed through the power of opera to delve deep into the emotional psyche of our main character and cause us to reflect on our own relationship with love and grief.
We sat down with Conductor Zoe Zeniodi ahead of her first visit to Australia for The Human Voice to discuss the music behind Poulenc's classic work.
What can audience members expect from the music in The Human Voice?
The Human Voice is one of the most temperamental works in the operatic art form.
Firstly, the whole concept of the one-sided communication is so unique and so unexpected. The story juxtaposes the boundaries and limitations that come with witnessing one side of the story with the freedom and space to explore exactly this same fact; we can only see a story from one side at a time.
Musically, Poulenc has created a masterpiece where he not only accompanies the singer with all the colouring and effects he is using, be that using the music to represent the other end of the phone line or embody her emotional state, but he has also managed to create one of the most powerful one-act works in the world of opera and theatre.
I believe that, ultimately, his music allows the audience and the artists involved to identify (or not) with aspects of the main character's plight and connect to her (or not) from their own point of view. We have all lived through similar situations one way or another and I find that this production allows a space for catharsis both on and off stage.
What makes Poulenc so unique?
Poulenc is a very particular composer, and this adds to the creative challenge for me. When discussing various compositions by French composers, it's common to hear "it sounds French… but certainly not Poulenc." Poulenc a very personal and strong musical language and throughout his compositions we always find big emotional contrasts, beautiful soundscapes, a unique "French" feeling and elements of folklore. Poulenc's main signature is a very personal harmonic world that can never be mistaken for someone else – ever.
In The Human Voice, Poulenc finds a way to follow Elle's madness through the music. While most opera works will include specific arias or melodies, The Human Voice is one through-composed elongated scene.
It's a view of a room and everything that happens therein, so it's impossible to pinpoint one singular moment in time. What we are left with is one hour of a person being at the verge of life or death, and it does not matter if this is real or a pure hysterical crisis or something that, in other cases, could be called an 'overreaction' to a separation. It is actually one of the best separation scenes in the history of music. Simply because the drama is so human and so relatable to moments of ourselves. It really is an amazing feat to be achieved in just one hour of performance.
This is your first time working as a conductor in Australia. Can you tell us a little about your career to date?
I've been very fortunate to be in the position I am today as a female conductor, although the path has not been easy.
I originally had a big career as a pianist and chamber musician and turned to conducting very late (according to today's standards). I had a very supportive mentor, Thomas Sleeper, who mentioned I should pursue conducting and at the time, my first response was "I can't…I'm a woman". It is true that this was just 15 years ago but this is how "my" world was back then.
With my decision to pursue conducting I now continue a journey of lifelong learning. There were certainly difficulties in being not only a female conductor, but a more mature woman in an industry that prioritizes youth, but despite the resistance I met, I was able to continue this path and be where I am today.
I am proud to have made choices in my career and personal life that will hopefully inspire young women to pursue their dreams. I was one of the first members of the Hart Institute of Women Conductors with the Dallas Opera in 2016 and was honoured to be chosen for the Maestra Academy after competing in the second edition of the La Maestra Competition held in March 2022 in Philharmonie de Paris.
I have had many conducting performances and engagements where I was the 'first' woman to ever conduct in that place. I have certainly seen a shift in attitudes within the industry over my career but know further change can be implemented to create a more supportive environment for female conductors.
How can you make your mark as a conductor on an existing work?
As a conductor, my work is the work of 'transcendental translation'. I am the person who must dig deeply into a score, connect to and try to understand the unique language of every single composer through notation.
I make choices that are always personal but respectful to the composer, interpret what can be interpreted, make the work part of my mind, body, and soul, and live with it for a very long time.
When I get in front of an orchestra I can inspire and share all the knowledge and depth I have acquired over time through gesture. This is the one occasion that I can truly say that the conductor is the "Human Voice" of the composer.
The Human Voice is presented by Opera Queensland and Brisbane Festival.
Music by Francis Poulenc
Libretto by Jean Cocteau