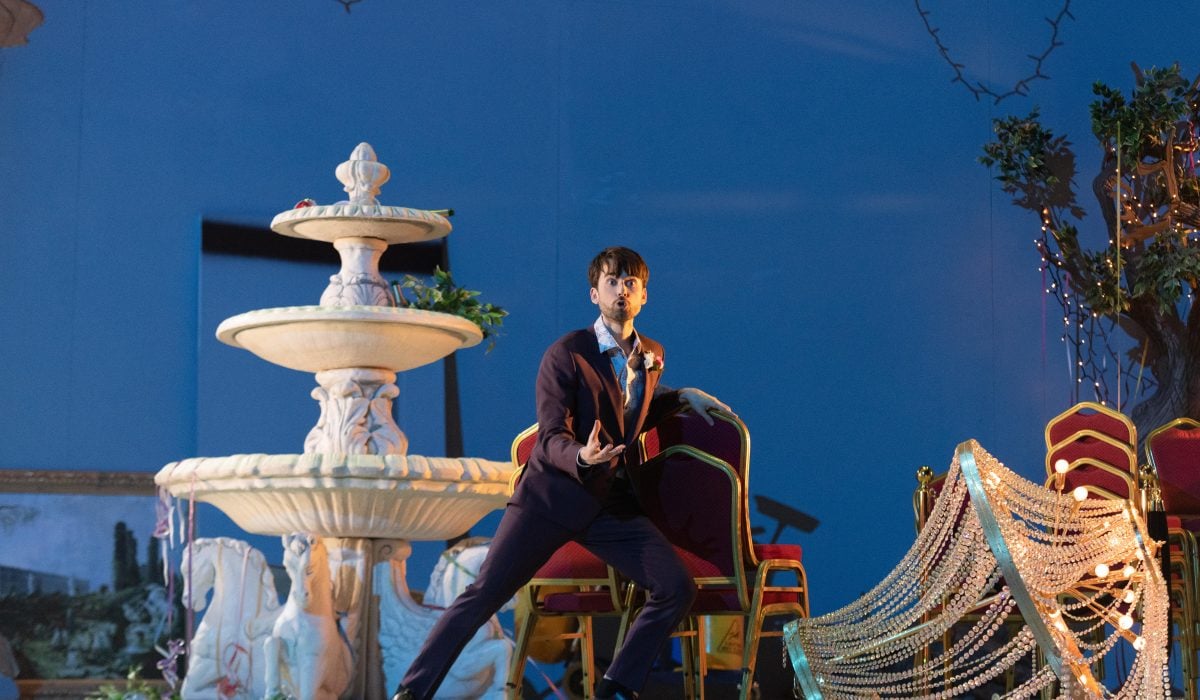 7th July, 2021
Jeremy Kleeman is Figaro
We spoke to bass-baritone Jeremy Kleeman ahead of his Opera Queensland debut as Figaro in our upcoming production of The Marriage of Figaro.
You will sing the role of Figaro in our new production of The Marriage of Figaro July, in your main stage debut for Opera Queensland. What are you most looking forward to?
Personally, I am simply thrilled to be out on stage in an opera, performing for an audience again. It will be my first time in over a year due to the restrictions in the UK and in fact, the first since I graduated from the Royal College of Music. The incredible role, brilliant opera and fantastic production, with this cast and company make it all the more special.
Can you explain the plot of The Marriage of Figaro… in fewer than 100 words?
On the morning of his wedding, Figaro is informed that his so-called-friend and master Count Almaviva has gone behind his back and set his amorous sights on Figaro's bride-to-be Susanna. There are further complications when it comes to light that Figaro has borrowed money from Marcellina and promised to marry her as collateral. Plans must be hatched, and fast, to make sure Figaro and Susanna can get married at all. (70 words… Well done!)
At the centre of the opera is a strong trio in Susanna, Figaro and the Countess. Can you talk more to Figaro's role in the team?
There would normally be a clear class divide between Susanna and Figaro and the Countess. However, as Figaro was instrumental in Rosina, now the Countess, and Count Almaviva getting together, there is a genuine respect between Figaro and the Countess. There's a level of friendship there that sees Figaro comfortable to show up in the Countess' bedroom and make plans on her behalf. Likewise, the Countess is often looking out for Figaro and Susanna. The trio make a great team.
How would you describe the relationship between Susanna and Figaro?
They are a couple on the verge of marriage, but with an intimate familiarity having been together for some time. They're matched in their passion and wit, but perhaps Susanna is a bit quicker to see the whole picture.
Do you think Figaro matures at all during the opera?
Figaro certainly has his eyes opened throughout the story, to his own naivety when it comes to trusting the Count, but more so to his own jealousy and paranoia when he, embarrassingly, falsely doubts the faithfulness of his own wife, and in turn, all women.
Is there a specific part of The Marriage of Figaro that resonates with you?
Figaro's arias convey the many emotions he goes through during the one 'crazy day'. He plots and schemes, he has some fun whilst concealing a more pointed message, as well as being in a furious rage of jealousy. I would be lying if I said it didn't all resonate with me in some way. I particularly like his Act One aria "Se vuol ballare" as I've certainly found myself 'dancing' my way through a plan in my head on many occasions.
Can you think of a character from a TV show or movie that Figaro reminds you of?
The cast has been joking that Figaro is at times like Manuel from Fawlty Towers given how many plates he must keep spinning at the same time. I'm also tempted to say Woody from Toy Story, another character who we see at his passionate and witty best, but also at his doubtful, jealous and angry worst. In The Marriage of Figaro we get to see Figaro at his best, and at his worst. It's a fun character to play for that reason.
What would you say to someone who has never been to an opera before to entice them to come to see The Marriage of Figaro?
What I really love about this opera for first timers is the pace of the plot and the way it twists and turns at the rate of a play. While stretching dramatic tension and extending moments of emotion is a wonderful element of opera, it may not seem as natural and accessible to those just starting out with the art form. In this opera you get all the amazing music and a rollicking good story to boot!
Opera Queensland new production of The Marriage of Figaro plays QPAC's Play house 15 – 31 July. Tickets selling fast.
The Marriage of Figaro