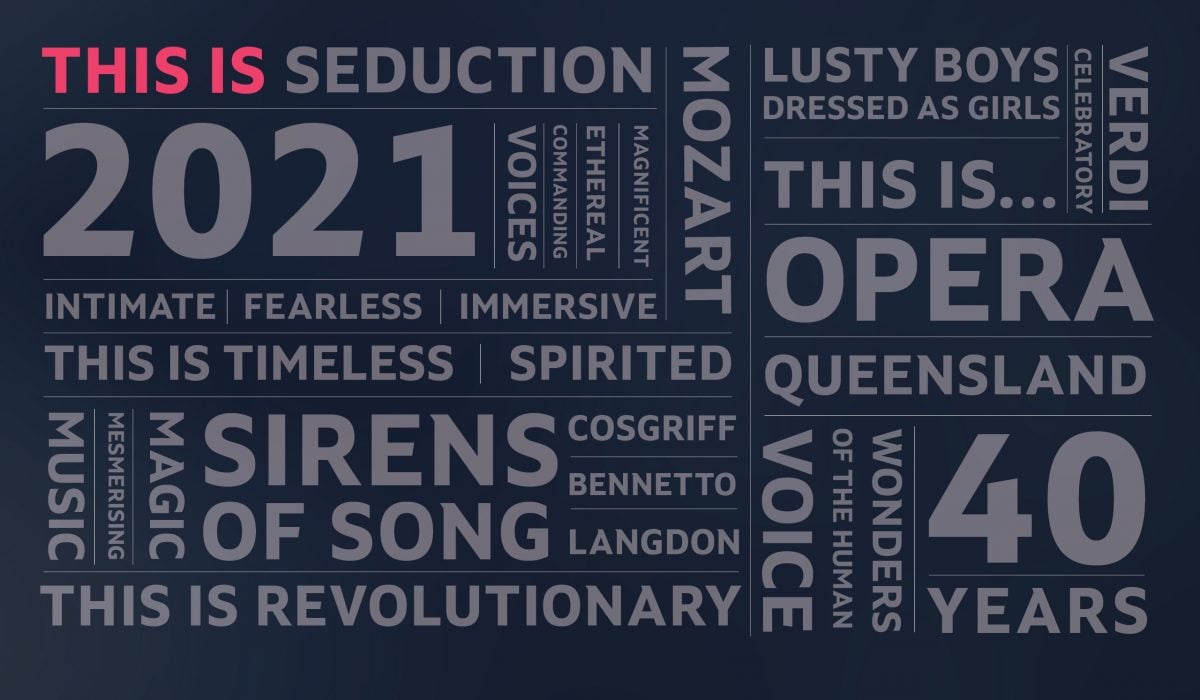 19th April, 2021
Opera Queensland announces 2021 Young Artists
Four artists set to thrill when Opera Queensland's Young Artist Program returns in 2021.
Opera Queensland continues its long history of nurturing emerging talent by expanding its Young Artist Program to welcome four exceptional singers in 2021.

The emerging talents selected this year are sopranos Rebecca Cassidy and Sofia Troncoso, mezzo-soprano Xenia Puskarz Thomas and bass-baritone Timothy Newton.
Opera Queensland Artistic Director & CEO Patrick Nolan said the company's Young Artist Program had helped countless singers forge long and successful careers.
"Opera Queensland is passionate about nurturing Queensland artists, investing in their myriad of talents and providing them with opportunities to progress their careers on the world stage," Mr Nolan said.
"Many participants of our Young Artist Program have gone on to enjoy prolific careers and achieve international recognition including Kate Miller-Heidke, Kiandra Howarth, Jacqui Dark, Kanen Breen, Virgilio Marino and conductor Dane Lam, who was appointed Resident Conductor and Associate Music Director for Opera Queensland's 40th anniversary year."
The Young Artist Program is overseen by Opera Queensland's Head of Music, Narelle French, one of Australia's most respected pianists and vocal coach.
"Working with our emerging artists and seeing them flourish and move into roles is incredibly rewarding," Ms French said.
"The future of opera in Queensland looks very bright and I am extremely proud to have worked with so many talented performers."
Ms French said the training and development opportunities in the program were suited to each participant.
"Because each artist is unique and because they have such different experiences in their development so far, we create a program tailored to each artist."
Rebecca Cassidy returns to the Young Artist Program this year after her 2020 participation was interrupted by Covid-19.
The Townsville-raised singer recorded several digital performances during lockdown before making her main stage debut in ENCORE: Opera Queensland Returns to the Stage, in October 2020.
"2020 was a terrible year in so many ways for a lot of people but it was also a breakout year for me," Ms Cassidy said.
"I still pinch myself at the opportunities the Young Artist Program provided me last year, including understudying my first ever major principal role of Isolde in Wagner's Tristan und Isolde and other opportunities such as performing a thrilling Puccini duet with Rosario La Spina in ENCORE.
"This year I hope the program will continue to bridge the gap between young artist and professional principal artist with a greater knowledge of what it takes to be a working freelance artist in the global arts landscape."
Brisbane-born mezzo-soprano Xenia Puskarz Thomas graduated from Queensland Conservatorium Griffith University in 2018 and is currently a Kovner Fellow at The Juilliard School, New York. Due to international travel restrictions, Xenia is studying virtually, enabling her to perform as Cherubino in Opera Queensland's production of The Marriage of Figaro from 15 – 31 July.
"With some education under my belt, I have been hoping to test out what I know in a supportive, professional environment," Ms Puskarz Thomas said.
"I am looking forward to exploring my performance capabilities and seeing how I will grow with the support of the wonderful musical mentors in this Young Artist Program."
American-born soprano Sofia Troncoso is a new addition to the Australian arts scene. Since settling in Brisbane in September 2020, Sofia performed in Opera Queensland Under the Stars in November and will perform the very demanding role of Susanna in The Marriage of Figaro.
"Over the past 12 months, Opera Queensland has been the light at the end of the tunnel for many artists, myself included, by really embracing local talent," she said.
"I hope all the musical, theatrical and industry experience the Opera Queensland team has to offer will help me forge a career in my new home in Australia."
Gold Coast-raised Timothy Newton also returned to Australia last year, having spent the 2019-20 season singing at Deutsche Oper Berlin. Timothy will play Figaro in The Marriage of Figaro in July.
"Many fine singers have gone through the Opera Queensland Young Artist Program so it's a great honour, in that sense," Mr Newton said.
"It's a remarkable opportunity to develop my career, taking advantage of the opportunities to perform and work on the many facets of technique and interpretation."
Opera Queensland's 2021 Annual Appeal will again support the Young Artist Program, among other key company initiatives.
Help secure the future of opera
Opera Queensland's 2021 Annual Appeal will again support the Young Artist Program, among other key projects and productions that will help us achieve our purpose of growing a community connected by the transformative power of opera.
DONATE NOW