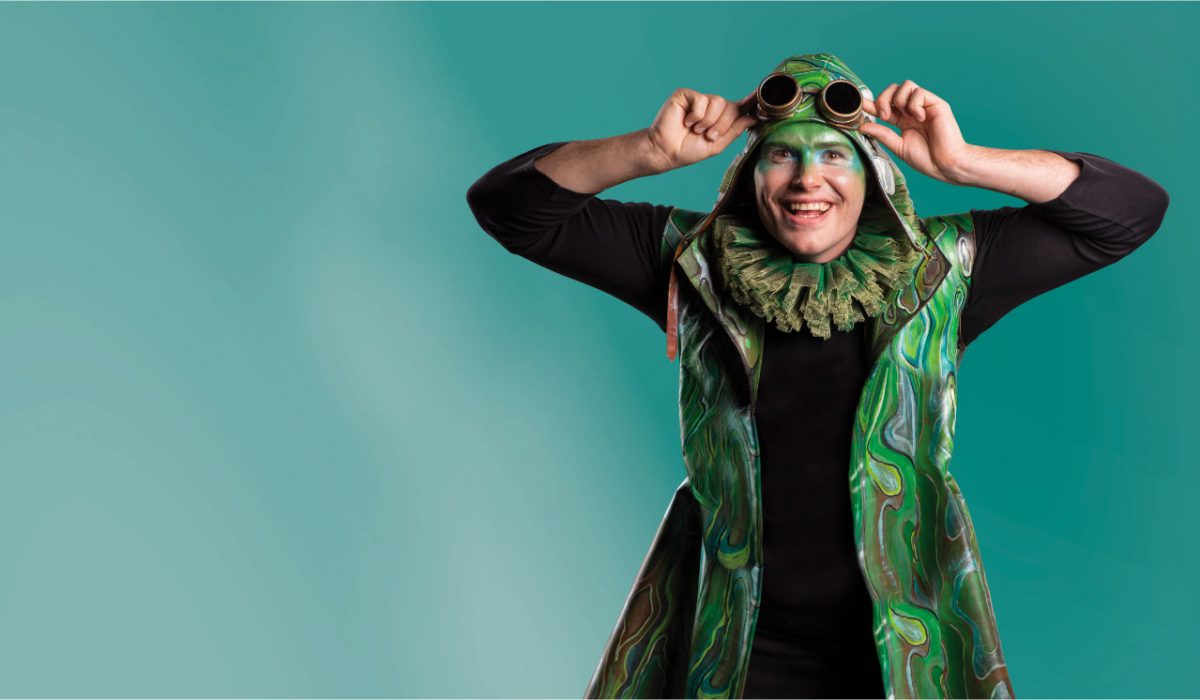 23rd August, 2021
Hopping Mad About The Frog Prince
In this classic Grimm tale, spoiled 10-year-old Juniper May meets Gilbert Gravy, a sassy frog, and an unlikely friendship blossoms as they embark on a fantastical and uplifting journey, learning about the importance of friendship and looking after the environment.
Read more about their adventure and the important message below.
Prince Gilbert Gravy (Sebastian Maclaine) is a selfish and wasteful young popstar prince. To teach him a lesson Reagan the Really Regal (Jonathan Hickey), a special amphibian with magic powers who watches over the waterways, puts a spell on Gilbert turning him into a frog and banishes him to the city sewers. In order for the spell to be lifted, Gilbert must convince someone as selfish and wasteful as him the importance taking care of the environment.
Gilbert meets 10-year-old Juniper May Pipe (Emma Nightingale) when she pulls him out of the abandoned swimming pool he is living in while she is searching for her mobile phone.
Juniper had been teased by her school mates for not having a phone, so she begged her father Dwayne Pipe (Jonathan Hickey), to give her a mobile phone for birthday.
Almost immediately after being given the gift, Juniper drops her new phone into the murky water of an abandoned swimming pool trying to take a "really cool selfie" to impress the school bullies.
When Juniper pulls Gilbert Gravy out of the water, he sees how selfish Juniper is and seizes the moment to lift the spell by convincing Juniper not to be so wasteful and selfish. Gilbert tells Juniper that he saw her phone go through the filter and into the drain, and offers to help her get it back. But she must follow Gilbert into the drain to meet Reagan.
Juniper and Gilbert enter the sewers and run into Remington, Gilbert's turtle friend (Jonathan Hickey), who is forced to live in the city sewers as his natural habitat, Crystal Creek, is full of rubbish and pollution.
Juniper and Gilbert venture deeper into the sewers where they meet Raph the Rat (Jonathan Hickey), who makes them a delicious meal from some leftover food.
The pair finally find Reagan who shows Juniper the world has become a horrible wasteland.
Juniper is shocked by what she has seen and agrees to spread the message about looking after the environment, lifting the spell and Gilbert turns back into the popstar prince.
The Frog Prince is suitable for ages 12 and under and is showing at the Opera Queensland Studio for a limited season this September.
The Frog Prince
Featuring striking costume design by Bianca Bulley, Opera Queensland's Assistant Head of Wardrobe, The Frog Prince leaps into the 21st century with all the transformative wonder you've come to expect when Opera Queensland and shake & stir theatre co. work together.
22-25 September
Opera Queensland Studio, South Bank
All tickets $25
BOOK NOW