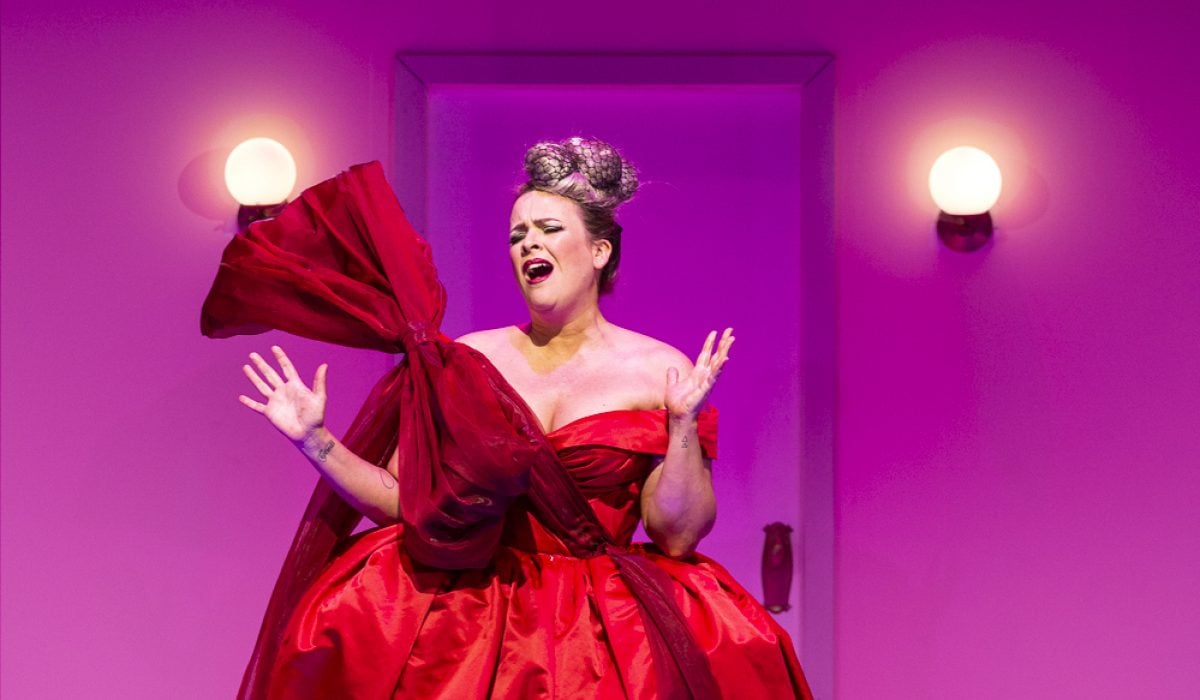 14th February, 2021
The impossible fashions of Lorelei
A dress made from 140 metres of tulle that is too big to fit backstage. With her costume designs for Lorelei, Marg Horwell has taken female fashions to the extreme.
Most women will be familiar with the struggles of impractical fashion. Whether it is high heels that make walking difficult or dresses that require assistance when using the toilet, women put themselves through torture to get that alluring feminine look.
Celebrities are not immune from fashion-related issues either. Jane Fonda famously posted a morning-after Instagram of herself still wearing her evening gown which she had slept in because she had no one to help her out of it. Blake Lively had to hire a party bus to get her to the 2018 Met Gala because the train of her dress was too big to fit in a normal car.
These absurd, if not troublesome, stories were the starting point for Costume Designer Marg Horwell for her Lorelei designs. A new operatic cabaret which questions the roles imposed upon women by patriarchy provided the perfect opportunity to reappropriate women's fashions.
'Women choose to restrict themselves quite literally and physically with fashion,' says Marg. 'We've amped that up to excessive proportions and deliberately made dresses that look spectacular when you are standing still, but when you try to walk or negotiate normal things, it's actually difficult to do.'
Marg loves 'impossible fashion' and watches events like the Met Gala with glee. The bigger and more ridiculous the fashion is, the better. Designing Lorelei gave Marg an opportunity to immerse herself in fashion and couture from recent years, as well as the past three decades.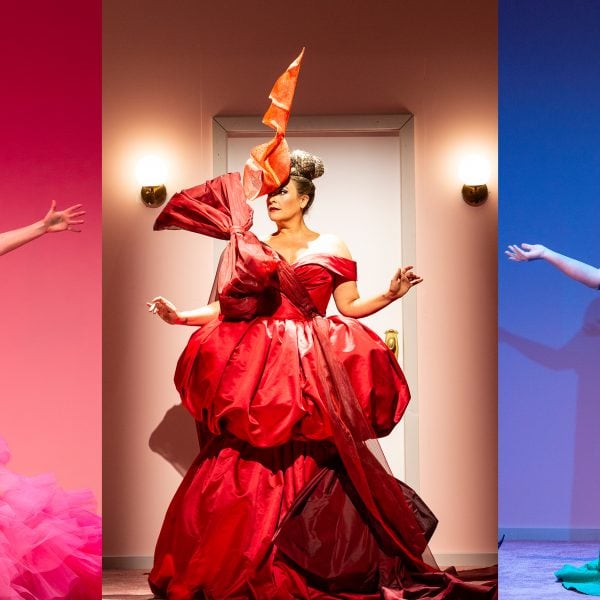 Each Lorelei wears a costume inspired by runway collections from major international fashion houses. Dimity Shepherd's dress is based on the most recent collection from Italian designer Giambattista Valli, which featured excessively romantic gowns with acres of tulle. Ali McGregor's costume is a homage to Alexander McQueen and Antionette Halloran's gown takes inspiration from the disproportionate shoulder looks of Viktor&Rolf.
The three singers also wear hats made by Melbourne milliner Phillip Rhodes, based on gravity-defying Phillip Treacy hats designed for runways.
Marg explains, 'The costumes are deliberately referential to specific designers who I adore, but they are also reminiscent of other things that have been around, so you can recognise it as real-life fashion. It's plausibly something that is worn.'
Dimity's dress is made from 140 metres of tulle and the ribbon on Ali's dress required 25 metres of fabric. The scale of the costumes has required some creative thinking around transportation and storage. Dimity's dress is so voluminous that she does not fit through a door when wearing it. The dress will be stored on a pulley hanging from the ceiling of the theatre and lowered down so she can dress on stage.
The ridiculousness of the costumes is partly for comedic effect. A lot of the comedy in the show will come from the Lorelei not being able to move around freely in dresses that are too long, shoes that are too high and hats that cover their eyes.
For Marg, part of the joy of her designs will be watching the singers struggle with their fashions. 'The costumes are a trap within a trap, another impediment, another way of trapping yourself on the rock. As things get annoying to them, they will start pulling parts of their costumes off. For example, Ali has a huge bow on her shoulder that is really hard to get off so she has to pull and pull at it.'
When it comes to fashion before comfort, the struggle is real.
By Beata Bowes, originally published by Victorian Opera 30 October 2018. Republished with permission. Photos Pia Johnson.