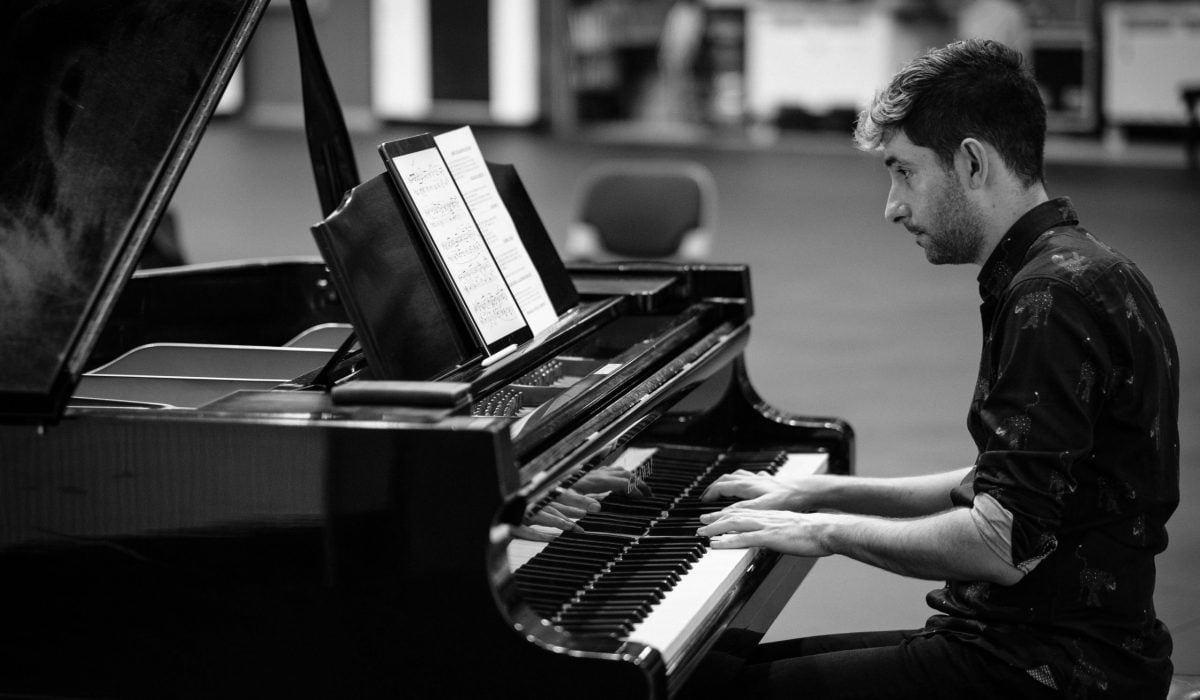 1st February, 2021
An interview with Alex Raineri
We recently asked Alex Raineri, Australian classical pianist and Artistic Director of the Brisbane Music Festival, a few questions about his collaboration with the Opera Queensland 2021 Studio Series. Hear from Alex, in his own words, what we can expect from him this year.
You will present two recitals with Opera Queensland as part of this year's Brisbane Music Festival. How did the collaboration come about?
I was thrilled when Opera Queensland's Artistic Director Patrick Nolan asked to sit down over a coffee with me in early 2019 to discuss how Opera Queensland and Brisbane Music Festival (BMF) might partner on future projects.
Being a newish festival (now in its fourth year), partnerships and collaborations lie at the heart of the BMF's success as I mould its trajectory into the future. Many ideas and potential projects were discussed, then 2020 happened! So, as a result, many of these ideas have been momentarily shelved for various pandemic-related reasons. I am, however, extremely thrilled that we are co-presenting two performances as part of the 2021 Opera Queensland Studio Series and 2021 BMF season; in February with Jane Sheldon and myself, and in August with Sarah Crane, Shaun Brown and myself at the piano.
What can audiences expect to hear and feel from your performance with soprano Jane Sheldon?
Part of the magic of music (in my humble opinion) is its powerful capacity for storytelling. Though, narratives and their emotional discourse are a deeply individual experience from listener to listener, an experience which I don't like to subvert by imposing too many expectations or adjectives that serve as a listening 'guide'.
What I would like to offer for now is that the three works Jane and I have curated in 'Songs of Love and Death' are deeply resonant for us both. Each tell stories that traverse a wide spectrum of aspects of the human condition within the poetry. As the title of the show suggests, there is a preoccupation with love, and death, but as every reader will understand, these are topics of endless fascination. Interrogating them through the medium of art-song, I hope will be as resonant for audiences as it is for the performers.
As part of your recital with Jane, Songs of Love and Death, you will perform Messiaen's epic song cycle Harawi. What are the challenges in performing this work?
There are many challenges. It's a very extended cycle, with most of the songs being quite technically difficult for both soprano and pianist. Perhaps more challenging is the aspect of synchronicity. The two performers are more often than not in rhythmic unison, which requires an almost psychic connection between the performers (lots of rehearsal time!). Jane and I are amplifying this aspect of the works difficulty by presented a semi-staged version of the work, outside of the traditional song-recital format. We very often won't see each other as per the song-recital norm, or our lighting design will be in various stages of shadow or luminescence. I won't say any more about that, it'll make itself clear at the show.
What are you most looking forward to about performing this work?
Harawi is new in my repertoire however I have played quite a lot of Messiaen's music including the song-cycle Poemes Pour Mi, The Quartet for the End of Time, and a number of the solo piano pieces. I'm always struck by the intense colouristic spectrum Messiaen finds in his music. Even at its most atonal moments, it is intensely expressive, and imbued with a clear trajectory of tension and release. It also has a magical way of suspending time, as if you're floating through the cosmos with this music, regardless of its duration – long or short.
Debussy originally set Pierre Louys poems to music in the late 1890s, returning to the collection in a more elaborate fashion in 1900. What effect will this have on the way you perform these works?
To facilitate the effective interpretation of any song, it all comes down to text, text, text. The music exists to serve the poetry and to render its expressive dimensions into the world of sound. The Pierre Louys poetry Debussy sets in his Chanson de Bilitis are extremely evocative. They paint pictures of love and lust, often hearkening to characters of folklore which for me personally lends a flavour of Midsummer Nights Dream to the poems. Exploring the subtleties of such beautifully crafted poetry and music is endlessly fascinating and Jane and I look forward to sharing our discoveries at the show.
Is there a major theme this year's Brisbane Music Festival centres around and how will these be explored in your performances?
The 2021 Brisbane Music Festival very much embodies the fundamental ethos of the BMF. This ethos is a two-part mission to present firstly a balance of music both old and new, and to secondly present in unfamiliar spaces around the city of Brisbane, thereby incorporating something of the city itself into the aesthetic of the festival.
I wonder how many of Opera Queensland followers have enjoyed productions at QPAC, yet never stepped foot inside the Studio where it all comes to life? This is a perfect platform for audiences to be invited into the creative home of opera in Queensland. I am so humbled that Opera Queensland is co-presenting two of their Studio Series events with my festival this year.
What are you listening to right now?
Right this very moment I've got a wonderful recording of Strauss' Salome blaring through my speaker, with Jessye Norman in the title role. It's ironic that my three favourite composers are Wagner, Mahler, and Strauss, each of whom wrote almost nothing for the piano…
More generally, it's really important for me to be always listening to music, exploring, learning. In particular, listening to not-piano music really helps inform my capacity for music making – listening without the specific critical ear that comes with hearing your own instrument being played, it can be very liberating and deeply moving.
Alex Raineri is internationally active as a recitalist, concerto soloist and chamber musician. For more information about the Brisbane Music festival visit www.brismusicfestival.com.
Alex will be performing with Jane Sheldon in Songs of Love and Death on 12 and 13 Feb in the Opera Queensland Studio. Tickets are on sale now.