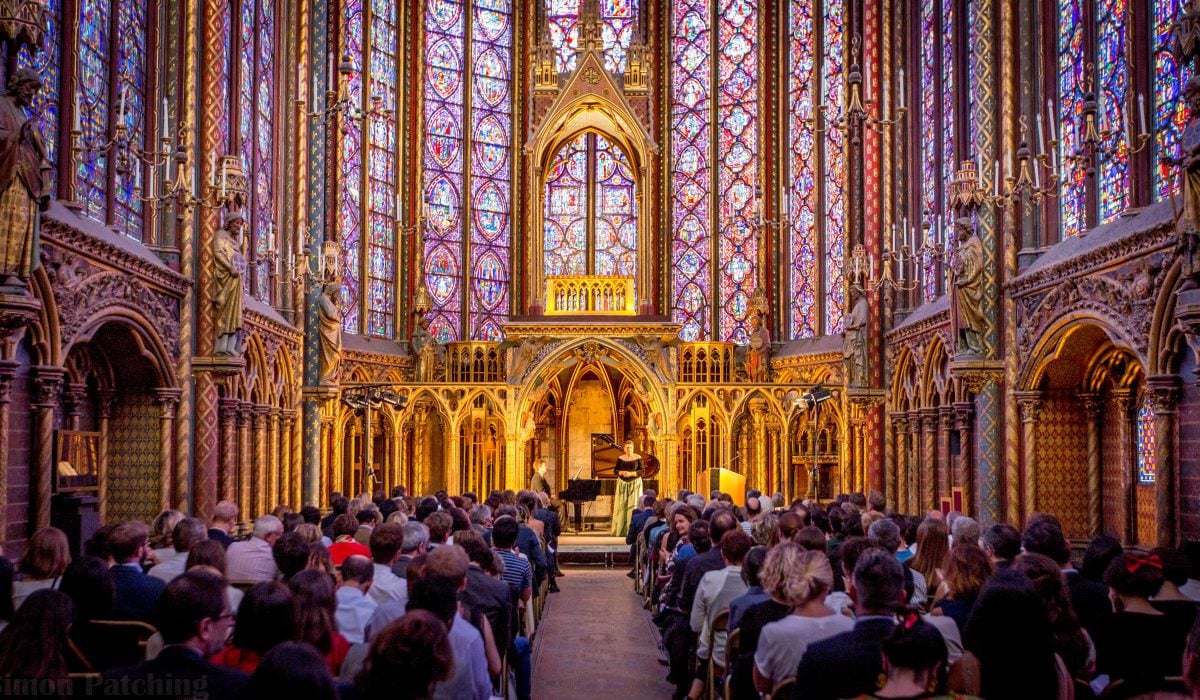 8th March, 2021
An interview with Toni Lalich OAM
Toni Lalich OAM performs alongside soprano Deborah Cheetham AO in Songs My Mother Taught Me. We asked the artist a few questions about the upcoming performance and what audiences can expect.
Can tell us about your connection with Deborah Cheetham and how you work together?
Deborah and I have been partners in music and life for the past 15 years. In that time we have created Short Black Opera Company, Australia's national performing arts company for Indigenous singers and instrumentalists. We have been fortunate to perform together in some wonderful places around the world. One of the most spectacular was in the Sainte-Chapelle in Paris, surrounded by the reflected light of around 600 square metres of magnificent stained glass.
Pictured: Songs of Belonging. Saint-Chappelle, Paris. June 2017.
Is there a piece from your recital program that is particularly difficult or particularly rewarding to perform? How will you and Deborah prepare for your recitals?
Every program has its challenges but fortunately we are able to practice together at home – even during lockdown!
Could you please tell us a little more about Short Black Opera?
Short Black Opera has become a beacon of excellence for First Nations performers, leading the way in Indigenous-led arts practice in Australia. We have produced Deborah's opera Pecan Summer around the country, including at the Sydney Opera House in 2016 and provided training opportunities for many Indigenous artists around the country. SBO has worked with hundreds of Indigenous children around the country through our Dhungala Choral Connection program and produced a book of songs for children featuring Indigenous stories and languages. We have recently established Ensemble Dutala, Australia's first Indigenous instrumental group to create pathways for Indigenous instrumentalists into our national orchestras. We have achieved a great deal in a relatively short time and we haven't finished yet! We have been very fortunate to be able to work together to achieve these significant milestones and we hope to inspire young ATSI performers to carry the baton for us into the future.
What is your earliest memory of performing?
I grew up in Kalgoorlie, WA and was fortunate to have lessons with the only music teacher in town, Christine Timoney. I learnt recorder, piano and clarinet with Christine and completed all the AMEB exams over the years, which involved driving for 6-7 hours to Perth each time. I accompanied the choir at school from Year 4 and always loved the big school concerts at the Kalgoorlie Town Hall. I was very fortunate to have such comprehensive music training during my primary school years in a small mining town in the 1970s, before heading off to boarding school in Perth for my high school years. Just goes to show that you should never underestimate the impact of a really good music teacher, no matter where you live.
Songs My Mother Sang To Me
Deborah Cheetham AO and Toni Lalich OAM
Two performances only
Friday 19 March 7.00pm
Saturday 20 March 2.00pm
Opera Queensland Studio, South Bank