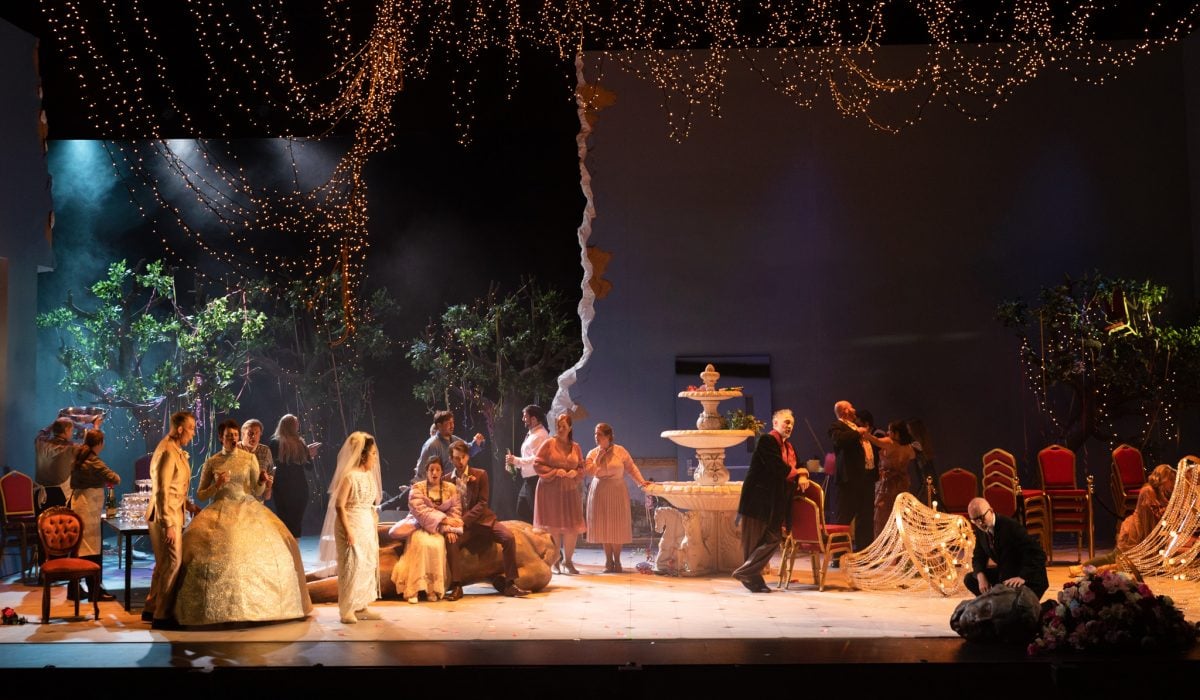 15th July, 2021
Designer's Note – Marg Horwell
In this excerpt from the program Marg shares insights into the design inspiration for this contemporary retelling of Mozart's 1700s opera, balancing the tension with the sublime.
When we began the design process for this production it was via Zoom, just after I had completed two weeks hotel quarantine and it was incredible to be able to go outside again. The week we started talking about the opera was the same week footage went viral of protesters tearing down a statue of Edward Colston in Ireland and threw it in a river.
Since, we've seen a lot of images of crowds pulling town public statues and monuments, footage of peaceful protests and vigils, tens of thousands marching for women's rights and enormous protests against racism, not forgetting the unbelievable documentation of the Capitol riots in the US.
While we wanted to make sure we designed a space that could be filled with humour and joy we also wanted the design to resonate with the deeply political origin of this opera, that the world we created could speak to the tension that immediately preceded the French Revolution when this opera was written. We also know the aftermath of a riot and that of a great celebration can often look very similar. So our design started with the toppled head of a statue. While it isn't necessarily the Count's head it could be the one before him, or the one before that one…
The set is a series of incomplete spaces in a state of repair or a state of decay, designed to evolve throughout the opera. We have situated it in the shell of a formerly grand and resplendent house and over the course of the production it opens up again and again, and fills with objects and people and life until nature forces its way in. Set over a single evening, there's an increasing sense that the very foundation needs to be torn down to progress again.
It is also a world in deep denial and although the rooms they occupy are crumbling, they'll continue on as though everything is just fine. They dress as each other, men dress as women and servants dress as royalty, they hide from each other in plain sight. It is a collapse of the public and the private, it is an upheaval of class structure, it is also enormous fun.
We begin with Figaro and Susanna moving house, their belongings in boxes, furniture leaning against walls. It's more of a thoroughfare than a room with people traipsing through their space.
We move to the Countess' bedroom, shopping strewn across an unmade bed, chandeliers on the floor, ready to be hung or perhaps fallen from the ceiling.
As we prepare for the wedding, a once grand reception room with chairs waiting to be set or waiting to be removed, the doors have been blasted off their hinges and are resting against the wall. We finish in the garden, nature comes flooding in and we see the body of our beheaded statue.
It's a new day.
Opera Queensland presents The Marriage of Figaro
15 – 31 July | Playhouse, QPAC
Tickets selling fast
BOOK NOW