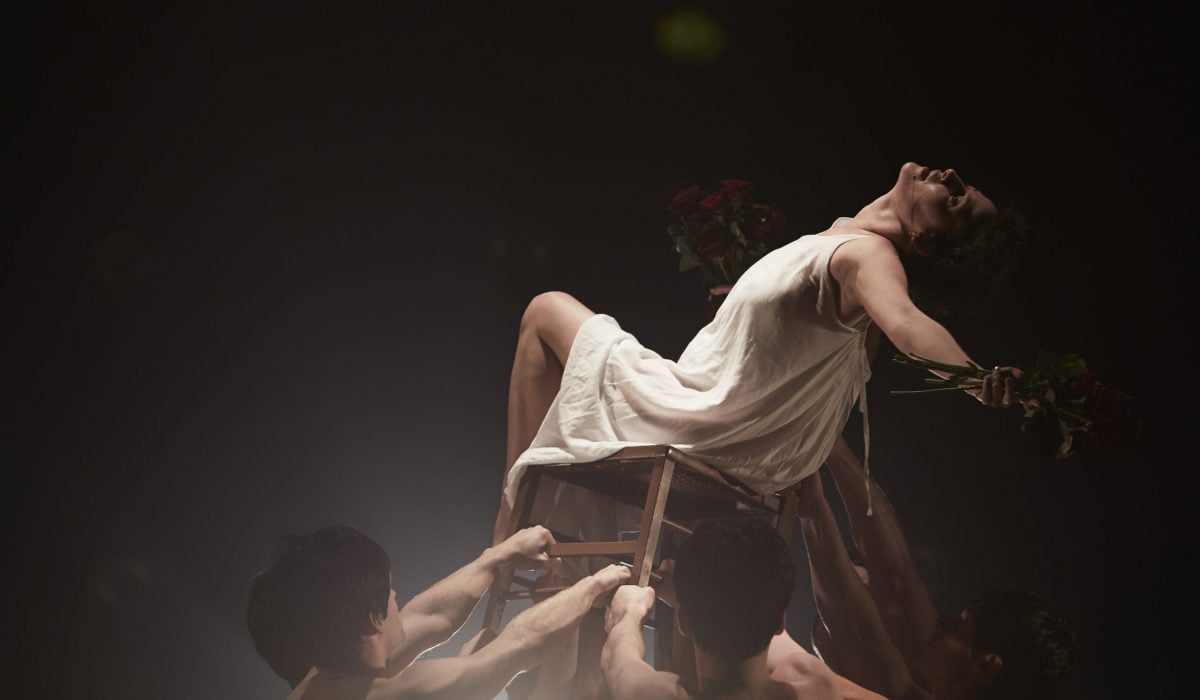 1st February, 2021
An interview with Jane Sheldon
Jane Sheldon is an Australian-American soprano and composer who specialises in the creation and performance of exploratory chamber music.
We spoke to Jane ahead of her upcoming recital, Songs of Love and Death, our first recital in the 2021 Studio Series.
What can audiences expect to hear from your upcoming performance with Opera Queensland?
What they'll be listening to is extremely sensual music full of cascades of symbolic images of mythic nature: birds and flowers, stars and planets.
In these pieces love is shown to be exactly as enormous, insane, and transformative as it feels. This is epic love on the grandest scale. I'm keen to add here that they'll also be hearing some stunningly virtuosic pianism from Alex Raineri; Harawi is a technically demanding work for both singer and pianist and I'm very excited to be working with Alex on this piece.
This is your recital debut with Opera Queensland – how did the collaboration come about?
Alex and I had wanted to perform together for a little while, and Patrick Nolan and I have worked together a bunch of times, most recently on Elliott Gyger's Oscar and Lucinda for Sydney Chamber Opera in 2019. I'm one of the many beneficiaries of their desire for Brisbane Music Festival and Opera Queensland to join forces this year.
As part of your recital, you and Alex will perform the 12-part song cycle Harawi from Messiaen's 'Tristan Trilogy'. How did you discover the piece and how will you and Alex personalise the work for this performance?
I came across the piece a long time ago. The first work in the trilogy that I discovered was the Turangalîla-Symphonie, and very naturally after hearing that I wanted to hear the other two works, Cinq Rechants and Harawi. When I was in college back in 2008 I performed several of these songs as part of a celebration of the centenary of Messiaen's birth, but this is my first opportunity to present the cycle in full. I suppose the most obvious personalisation of the work will be in the way in which we're setting the work in space; rather than singing the whole work beside the piano, I'll be charting a path through the performance space, travelling, in a sense, through each of the highly abstract images Messiaen conjures in his texts.
Audiences at Songs of Love & Death will also hear original works you have co-composed with Julian Curwin. How did these works come about? What inspired you to write these pieces?
This project with Julian Curwin, a wonderful guitarist from Sydney, was a co-written CD called Crossing, which we released in 2018. It was a really interesting, exploratory process where we were looking to fertilise the place where our musical languages overlap. If you take just a glance at our separate bodies of work, it might look like we exist in very different regions of musical life, but we both love very, very early Southern European song (such as the 13th century cantigas collected in the Martin Codax manuscripts), Radiohead, John Zorn, and spaghetti western soundtracks. This project was an exploration of co-writing from this very specific set of overlaps, and to our delight it really worked. The song featured in this program is a setting of part of Rimbaud's poem about Shakespeare's Ophelia. I'm thrilled Alex was keen to make an arrangement for voice and piano.
For your performance the Opera Queensland Studio will be configured slightly different from past recitals. What will this add to your performance and audience experience?
The state of being that the singer of Harawi is in is so heightened as to be almost disorienting, and for that reason it felt not quite right to us to present it as a straightforward concert recital. It seems important to offer a gentle transformation of the performance space, to condition the room for the audience, so that we can all travel together to a place that's ecstatically surreal.
I'm a big believer in the value of sharing physical space with an audience, as distinct from recorded performances (which are valuable for their own reasons), because of the potential for the performers' heightened physiological states to be properly taken up in the bodies of the audience members. Our transformation of conventional recital presentation is intended to enhance this mysterious mechanism of live performance.
What are you listening to right now?
The most recent thing I listened to was this morning: Dallapiccola's amazing song cycle Liriche Greche. Yesterday I dived back into Henze's Being Beauteous, which I hadn't listened to for years. Both staggering pieces. I've also been listening again to Chavela Vargas, the extraordinary Mexican singer.
Jane Sheldon is an Australian-American soprano and composer who specialises in the creation and performance of exploratory chamber music. Jane will be performing Songs of Love and Death on 12 and 13 Feb in the Opera Queensland Studio. Tickets are on sale now.
Image: An Index of Metals / Sydney Chamber Opera / Photo: Zan Wimberley