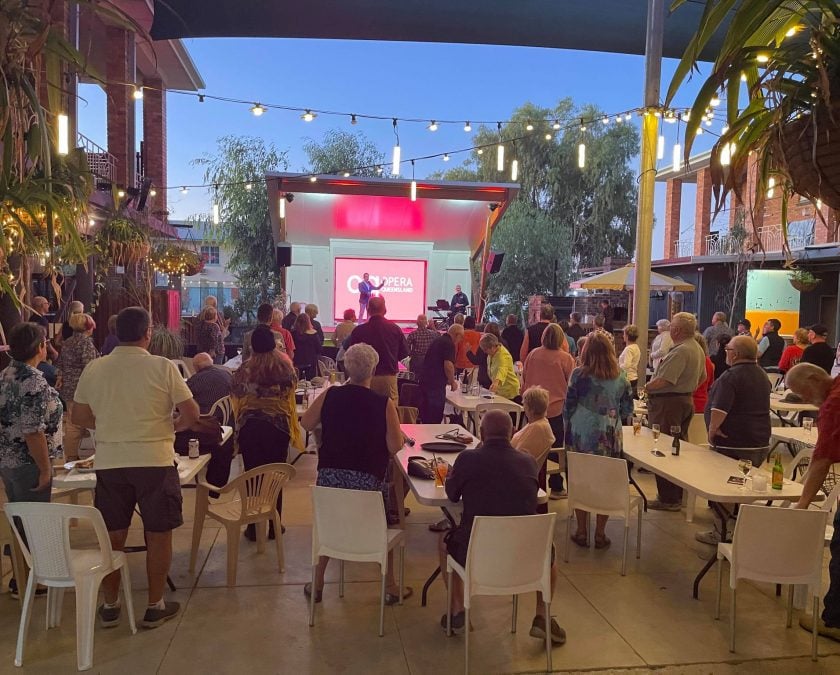 Performance

Sing Sing Sing

FESTIVAL OF OUTBACK OPERA

                               

Event Passed
Treat yourself to fabulous singing and socialising, led by talented Opera Queensland artists.
Sing Sing Sing is a fun-filled session of music making and merriment for singers of all levels of experience and ability. Revel in your love of song in the Beer Garden of the North Gregory Hotel in Winton and The Branch Cafe in Longreach. It's Pub Choir, Opera Queensland style!
Opera Queensland's Festival of Outback Opera is supported by the Queensland Government through Arts Queensland, the Outback Queensland Tourism Association and Haymans Electrical.
Exclusive Four Night Opera Package with Rangelands
Experience the thrill of opera under the Outback skies with Rangelands. Only 12 pampered guests will have the opportunity to book this one-of-a-kind lavish outback package. Stay in absolute luxury at Rangelands Outback Camp, indulge with gourmet dinners, attend the exclusive Festival of Outback Opera Long Lunch on Thursday 18 May and visit Dark Sky Serenade at the Australian Age of Dinosaurs on Friday 19 May.
MORE INFO