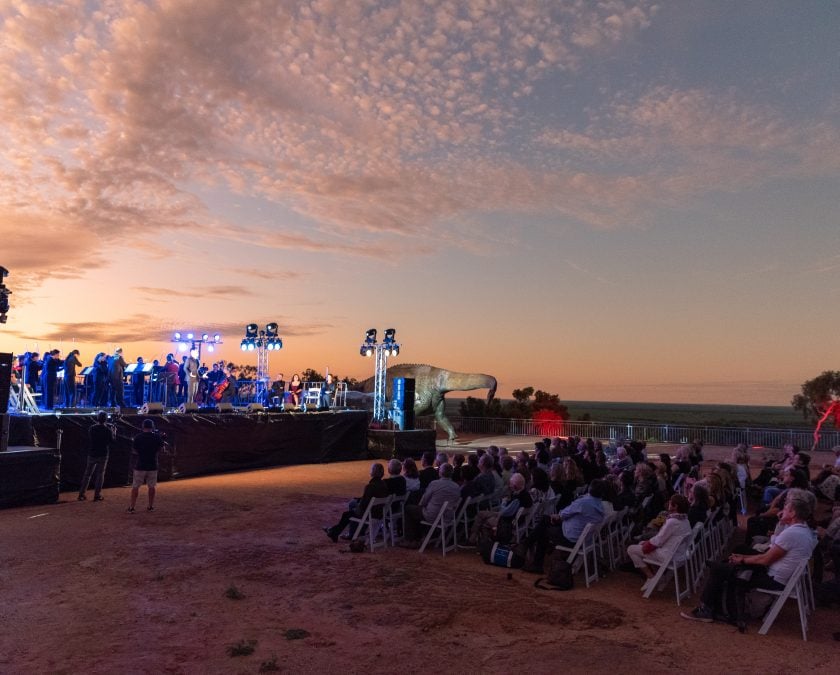 Performance

Dark Sky Serenade

FESTIVAL OF OUTBACK OPERA

                               

Event Passed
Dazzling night skies, crystal clear air and glorious music ignite your senses in this once in a lifetime concert.
Dark Sky Serenade returns to the spectacular Jump-Up at the Australian Age of Dinosaurs Museum, creating a concert stage 75 metres above the spectacular surrounding landscape.
Experience sublime music as the sun sets and the Milky Way explodes out of the night sky.
Featuring stars from the Australian opera world that have also appeared in New York, Paris, London and now the Outback.
Presented by  Opera Queensland in association with Queensland Music Trails, Queensland Symphony Orchestra and The University of Queensland, the Festival of Outback Opera visits Winton and Longreach from 16 to 22 May 2023.
CREATIVE TEAM
Music Director VANESSA SCAMMELL
Director PATRICK NOLAN
Lighting Design BERNIE TAN-HAYES
CAST
EMMA MATTHEWS
MILIJANA NIKOLIC
JUD ARTHUR
CARLOS BÁRCENAS
JOSÉ CARBÓ
KATIE STENZEL
With the University of Queensland Pulse Chamber Orchestra joined by musicians of the Queensland Symphony Orchestra.
Opera Queensland's Festival of Outback Opera is supported by the Queensland Government through Arts Queensland, the Outback Queensland Tourism Association and Haymans Electrical.
Exclusive Four Night Opera Package with Rangelands
Experience the thrill of opera under the Outback skies with Rangelands. Only 12 pampered guests will have the opportunity to book this one-of-a-kind lavish outback package. Stay in absolute luxury at Rangelands Outback Camp, indulge with gourmet dinners, attend the exclusive Festival of Outback Opera Long Lunch on Thursday 18 May and visit Dark Sky Serenade at the Australian Age of Dinosaurs on Friday 19 May.
MORE INFO