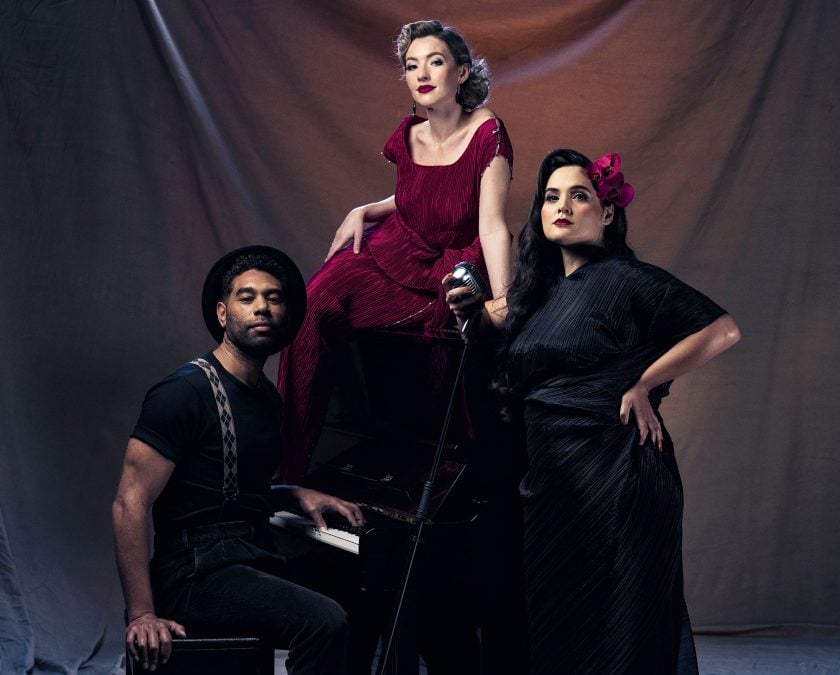 April - June 2023
Regional

Lady Sings the Maroons

THIS IS QUEENSLAND

                               

Event Passed
Following the great success of Are You Lonesome Tonight, Opera Queensland takes a deep dive into the Queensland songbook to celebrate some of Australia's most loved artists.
The Saints, Gladys Moncrieff, Savage Garden and Harold Blair are just a few who inspire Lady Sings the Maroons. A mixtape for a road trip from Brisbane to Cunnamulla, Mount Isa to Cairns, Lady Sings the Maroons tells a story about the art of making a great song and the artists who write them.
Featuring the phenomenal voices of Jess Hitchcock, Irena Lysiuk and Marcus Corowa, the production tours from April 2023, including a visit to the Festival of Outback Opera.
Concept PATRICK NOLAN
Director LAURA HANSFORD
Music Director LUKE VOLKER
In 2023, Lady Sings the Maroons toured to the following locations:
28 April: Caloundra – The Events Centre
3 May: Maryborough – Brolga Theatre
4 May: Bundaberg – Moncrieff Entertainment Centre
6 May: Gladstone – Gladstone Entertainment Convention Centre
8 May: Yeppoon – Oak Tree Retirement Village (community performance)
9 May: Rockhampton – Pilbeam Theatre
11 May: Proserpine – Proserpine Entertainment Centre
12 May: Mackay – Blue Care Mackay (community performance)
15 May: Cloncurry – Chinaman Creek Dam
16 May: Mount Isa – Civic Centre*
18 May: Winton – Eric Lenton Memorial Recreation Grounds
22 May: Longreach – Longreach Jockey Club
23 May: Barcaldine – Town Hall
24 May: Blackall – Woolscour
27 May: Quilpie – Baldy Top
30 May: Charleville – Racecourse*
1 June: Goondiwindi – Waggamba Community Centre
3 June: Roma – Roma Cultural Centre, Auditorium
5 June: Chinchilla – Windmill Gardens Retirement Village (community performance)
5 June: Dalby – Ningana Retirement Village (community performance)
6 June: Kingaroy – Town Hall
7 June: Toowoomba – Armitage Centre
9 June: Brisbane – Roma Street Parklands
10 June: Gold Coast – Bond University
*These performances were kindly supported by the Regional Arts and Development Fund. The Regional Arts Development Fund is a partnership between the Queensland Government and Mount Isa City Council as well as Murweh Shire Council to support local arts and culture in regional Queensland.
Lady Sings the Maroons - Queensland Day Special: Roma Street Parklands Information
Accessibility
The Roma Street Parkland has been designed so it can be easily accessible and enjoyable for everyone. For the performance of Lady Sings the Maroons at the amphitheatre, we recommend using the right-hand side entrance opposite the auditorium. Wheelchair seating will be available on the front left facing the stage.
More info on the accessibility of the Roma Street Parkland 
Seating
The Roma Street Parkland amphitheatre has concrete and grass steps for audience seating. Please bring a blanket or cushion to sit on. The ground may be damp if it has rained previously. More seating is available on the grass behind the amphitheatre style seating. Please bring your own picnic blanket or chair if you intend to sit in this area.
Food & Beverages
Please note that this is a BYO, non-licensed event. Please bring your own picnic and soft drinks, and enjoy the performance!
The Osteria Roma (345 Wickham Terrace) offers take-away for this event as well as pre-performance dinner from their all-day menu. View menu
How to get there
We recommend public transport to attend this event. Roma Street Parkland is accessible by both train and bus. Roma Street train and bus station and Brisbane Coach Terminal are located directly beside the Parkland (access is via lower ground level). For further information about bus or train timetables, please phone TransLink on 13 12 30 or visit the Translink website.
More information on car parking, cycling, taxis or ride-sharing drop-off zones for the Roma Street Parkland is available on the Visit Brisbane website.
The nearest car park is Roma Street Car Park – Corner Stone Carpark
Participate
Along the 2023 regional tour, Opera Queensland invites members of the local communities to join a regional community chorus or express their interest to become a local support act.
Regional Community Chorus
For the performances in Caloundra, Bundaberg, Gladstone, Rockhampton and Roma, members of the community can join a local community chorus to perform with the cast. Singing experience is of advantage but not required.
Prepare with fellow local singers and online tutorials to practice in your own pace. On the evening before the performance or on the performance day, your Regional Community Chorus will rehearse with members of the cast to prepare for their moment in the spotlight. All rehearsal times will be communicated closer to the event with registered community chorus members.
To perform with the OQ cast, community chorus members will be required to sign a volunteer agreement ahead of the performance.
REGISTER FOR COMMUNITY CHORUS
Local Support Act
In Maryborough, Proserpine, Cloncurry, Winton, Longreach, Barcaldine, Blackall, Quilpie, Charleville and Goondiwindi, Opera Queensland invites singers and musicians from the local community to express their interest to become a local support act for Lady Sings the Maroons. All artists will be employed for the performance by Opera Queensland and paid under the Live Performance Australia award rates. All artists must be 18 years or older at the time of performance and have full-working rights in Australia.
Opera Queensland recognises workplace diversity as an integral part of how we operate and is imperative to our success. We have an ongoing commitment to creating an environment focused on equity, diversity and inclusion. We encourage applications representative of the diversity in our broader community, whether that be gender identity, LGBTQIA+, cultural and/or linguistic, Aboriginal and/or Torres Strait Islander peoples, or people with a disability.
REGISTER YOUR INTEREST