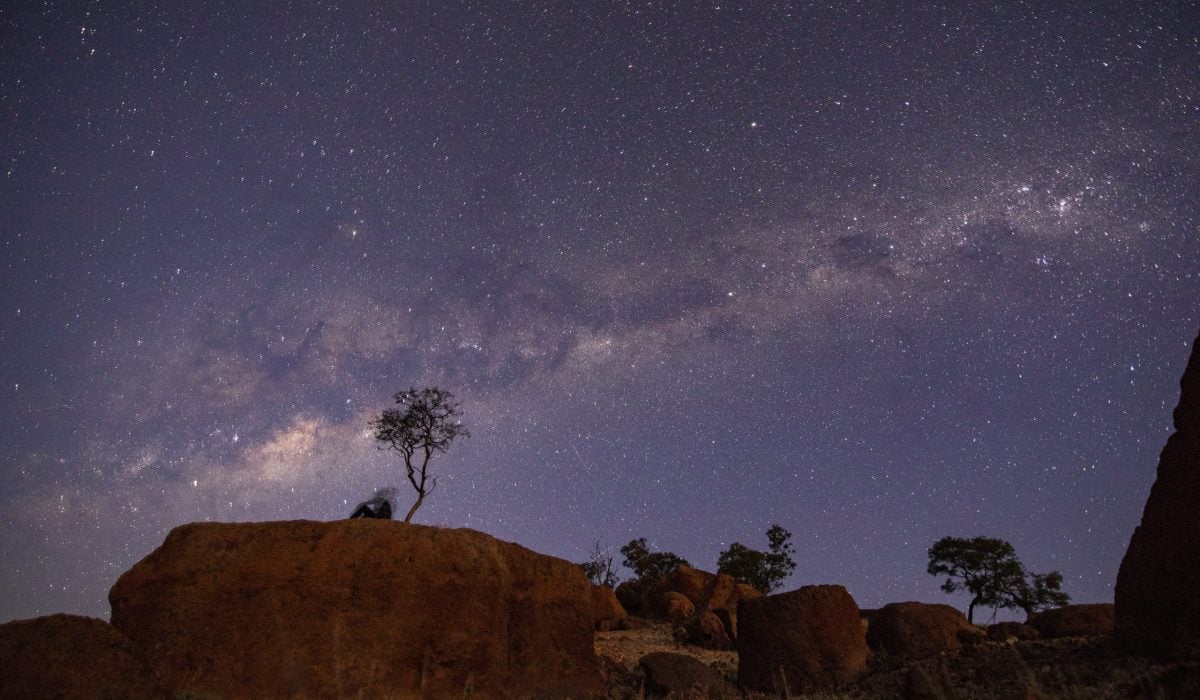 20th April, 2021
Bringing baritone to the bush: Teddy Tahu Rhodes to headline inaugural Festival of Outback Opera
Internationally acclaimed singer Teddy Tahu Rhodes will headline the inaugural Festival of Outback Opera, presented by Opera Queensland in association with Camerata – Queensland's Chamber Orchestra. The festival will take place in Longreach, Winton, Barcaldine, Blackall and Windorah from 19 – 27 May 2021.
The eight-day celebration kicks off with a special edition of Opera Queensland's popular participatory event Sing Sing Sing at Winton's iconic North Gregory Hotel on 19 May, a performance of Are You Lonesome Tonight on the main street of Winton, outside the Waltzing Matilda Centre on 20 May followed by two spectacular outdoor concerts, Dark Sky Serenade at the Australian Age of Dinosaurs parklands in Winton on 21 May and Singing in the Night at Qantas Founders Museum in Longreach on 22 May.
At Dark Sky Serenade audiences have the chance to watch the sun set and the Milky Way emerge while listening to the songs of Mozart, Bizet, Rossini and Rodgers and Hammerstein.
For Singing in the Night in Longreach, be immersed in beautiful music making as the sun sets behind the Qantas Founders Museum. Music by composers from across the history of opera, including Handel, Verdi, and Puccini and some much-loved musical numbers from shows such as South Pacific, Fiddler on the Roof and My Fair Lady,
The performances will be led by acclaimed Australian conductor Vanessa Scammell who has curated the program with Camerata's Artistic Director Brendan Joyce.
Another key offering of the festival is Opera Queensland's genre-defying new production, Are You Lonesome Tonight which plays Winton, Longreach, Barcaldine, Blackhall and Windorah.
Opera Queensland Artistic Director & CEO Patrick Nolan said it was a coup to have secured New Zealand-born bass-baritone Teddy Tahu Rhodes for the special celebration, which coincides with Opera Queensland's 40th anniversary.
"The stars – and Trans-Tasman bubble – have aligned and we are thrilled that Teddy is able to join us for what is sure to be one of the highlights of 2021," Nolan said.
"Teddy is one of the great voices of contemporary opera and has amassed a legion of fans for his iconic leading performances in productions of Don Giovanni and Tosca, as well as a dazzling career in the musicals. Anyone who can make it to the outback for the festival is in for the experience of a lifetime."
Sharing the open-air stages with the ARIA and Helpmann Award-winning performer will be an ensemble of Opera Queensland artists including Eva Kong (The Marriage of Figaro; A Flowering Tree), Kang Wang (Opera Queensland Under the Stars), Xenia Puskarz Thomas (Opera Queensland Under the Stars) and Jason Barry-Smith.
"The Festival of Outback Opera is a wonderful opportunity to show Queensland that opera as an art form is not confined to theatre stages in capital cities," said Mr Nolan.
"The beauty of opera is its ability to connect with anyone who is excited by great stories and powerful music.
"Our vision is to grow a community that is connected by the transformative power of opera, and we look forward to doing this during the festival when we run community workshops, perform pop-up performances and debut new work developed in collaboration with emerging artists."
The Festival of Outback Opera is funded under the Year of Outback Tourism Events Program.
Queensland Premier Annastacia Palaszczuk encouraged Queenslanders to back the bush and visit the region for this unique Outback experience.
"The Queensland Government is delighted to support Opera Queensland to deliver the Festival of Outback Opera and help bring more visitors to western Queensland to enjoy everything that the region has to offer," the Premier said.
The Festival of Outback Opera will visit Winton, Longreach, Barcaldine, Blackall and Windorah from 19 – 27 May 2021. Tickets for Dark Sky Serenade and Singing in the Night from $49 + booking fee.
To allow you to plan your ticket purchase around your itinerary and manage capacity for each venue, each event must be purchased or registered for separately.